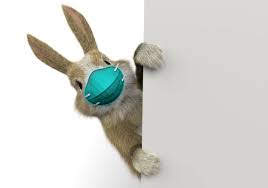 4-25-2020 
Dear Haven family,
Hello everyone.  I trust that you are staying safe and keeping well. We have a special treat for you today- affordable and very cute masks.  
Cara, a Rabbit Haven volunteer,  is making colorful masks as a fundraiser for The Rabbit Haven.   
Looks like we will all be wearing masks for months – so add a few masks to your collection and support the Rabbit Haven.  Cara is offering a two pack of masks for $20.00, 3 for $30.00 four for $40.00.  (includes postage). What  a deal. 
Who wants to wear paper surgical masks when you can wear these?
See link to select your mask then  Contact Caradrouin@sbcglobal.net or 
Cara Drouin on Messenger with your mask selection(s).  
https://photos.google.com/share/AF1QipMdn4tLboAQDVkSEyGPu9HDk3Wd7S9aXTp17tGUK913v8JkCi9BhwMn-279msg9Yg?key=YnJQMVp1TnZkcnQ1d2xiVTRXUmZ5QjY2c0pxUmRB
Wait for confirmation that your selections are still available.
Include your mailing address where you can receive a 6x9 mailer via USPS First Class Mail.
Donate to The Rabbit Haven https://www.therabbithaven.org/donate
     2 for $20 donation
     3 for $30 donation
     4 for $40 donation 
Stay safe-Be well. 
Love, Auntie Heather