Keynote Speaker: Dr. Hilary Stern, DVM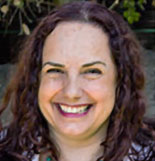 Dr. Hilary Stern works exclusively with exotic animals and enjoys providing medical and surgical care for rabbits as well as parrots, rodents, ferrets, chickens, reptiles, amphibians, and more. Dr. Stern attended Yale University as an undergraduate, graduating magna cum laude as a pre-medical student with a bachelor's degree in history. Instead of becoming a physician for people, however, she chose to focus her medical training on wildlife and unusual pets. She received her Doctorate in Veterinary Medicine degree from the University of California at Davis, where she was a Regent's scholar and co-president of the Avian and Exotics Medicine Club. Dr. Stern has presented at national exotic animal medical conferences, is currently on the education committee for the Association of Avian Veterinarians, and is working toward AVBP board certification in Exotic Companion Mammal Medicine. Since joining the Animal Hospital of Soquel, Dr. Stern has become Santa Cruz's sole exotics-only veterinarian.
Dr. Stern very much enjoys working with the rabbit rescue community and has worked closely with The Rabbit Haven for the past 15 years. She has provided pro bono and reduced cost medical and surgical services for hundreds of rabbits in our community. She and her family live with a three-legged rescue bunny named Tricerahops.
Director of The Rabbit Haven: Heather Bechtel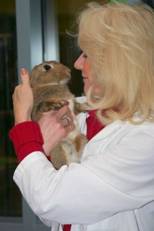 Heather Bechtel
, Founder and Director of The Rabbit Haven, began working with rabbits and other animals in 1958. Her family was involved in the medical field and provided much needed help and education to her in these early years. She founded The Rabbit Haven in 1987 as a way to help find medical care and homes for rabbits abandoned at shelters. Heather has helped rescue thousands of animals over the years, and continues to direct The Haven's operations.