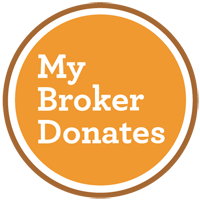 If you could generate a big donation for The Rabbit Haven without writing a check, would you?
Of course you would.
Now you can generate that big, cost-free donation whenever you are thinking of buying or selling a property. It's possible through our new partnership with My Broker Donates. My Broker Donates empowers you to generate donations to The Rabbit Haven worth thousands of dollars-at zero cost to you-when you buy or sell a home.
How does it work? My Broker Donates connects people looking to buy or sell a home with caring, qualified agents and brokers who donate 15% of their fee to The Rabbit Haven. The best part? They screen the agents' qualifications and you choose the agent you like best.
A $500,000 real-estate transaction generates a donation of more than $2,000. That money will help The Rabbit Haven continue its work of rescuing abandoned and injured rabbits in the Santa Cruz area.
So contact My Broker Donates before you engage a real estate professional. Even if you have an agent you already love, you can still generate a big donation for The Rabbit Haven.
When you buy or sell a home through My Broker Donates, they take care of everything. Buyers and sellers work with a great, pre-screened agent, and The Rabbit Haven receives much-needed funding.
These are real estate transactions that are going to happen either way. Shouldn't The Rabbit Haven benefit from them?