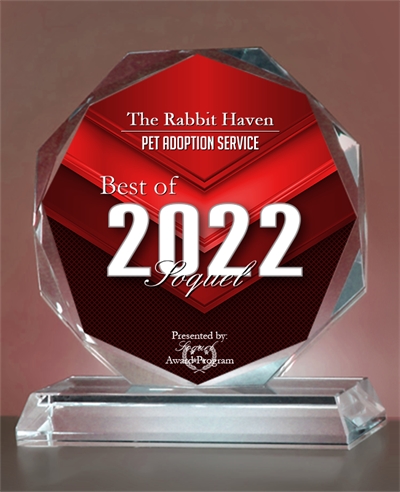 Soquel Award Program Honors the Achievement of The Rabbit Haven
The Rabbit Haven has been selected for the 2022 Best of Soquel Award in the Pet Adoption Service category by the Soquel Award Program.
Each year, the Soquel Award Program identifies companies that we believe have achieved exceptional marketing success in their local community and business category. These are local companies that enhance the positive image of small business through service to their customers and our community. These exceptional companies help make the Soquel area a great place to live, work and play.
The Soquel Award Program is an annual awards program honoring the achievements and accomplishments of local businesses throughout the Soquel area. Recognition is given to those companies that have shown the ability to use their best practices and implemented programs to generate competitive advantages and long-term value.
The Rabbit Haven is a non profit rabbit education and adoption organization.  The Rabbit Haven showcases rabbits for adoption at pet Pals in Soquel – We take in over 700 animals every year and work with both shelters and out community to rescue, provide all care needed, set up fosters and hold two adoption show every month.
The Rabbit Haven is an all-volunteer organization -Join us today Director@therabbithaven.org 831 239-7119
We are honored to receive this special award!  Heather R Bechtel