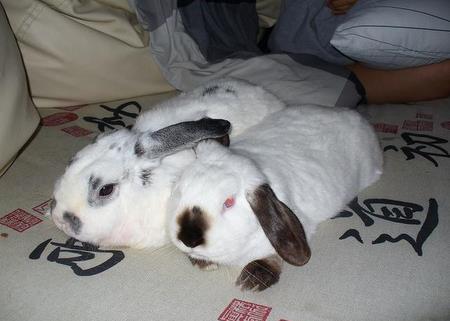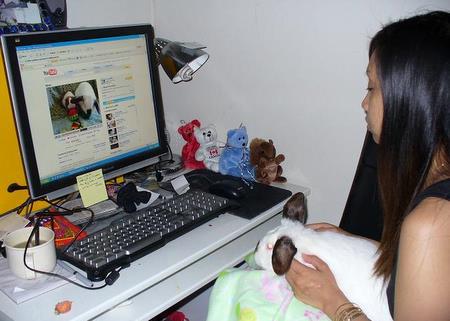 When our King died on December 7, 2007, we never thought we would take home another rabbit. Not until I went to the Rabbit Haven's website and saw Ethan. My heart skipped a beat when we saw him. We got him right away and named him Kee!
Kee stands for King Elvis of England. We named him after Babs' friend Elvis aka the King and he's from England! Kee is such a great bunny! I just have to say that one more time! He's grown attached to my husband! We really love him! Once again, thank you for making us whole again after losing our bunny King. Kee patched up the empty holes in our hearts.
I was doing my laundry the other day and came back inside the house and found them snuggling together. I was scared at first because I don't want fights in my house but Babs actually liked him. Babs ears have gone so cold and she doesn't have much appetite since King left us to go to "The Rainbow Bridge". When she was laying down with Kee and I picked her up to put her in another room, for the first time in a long time Babs' ears were warm and she was doing nonstop binkies, jumping really high in the air and running fast with another binkie. Kee does higher binkies up to almost 2 feet high up in the air!