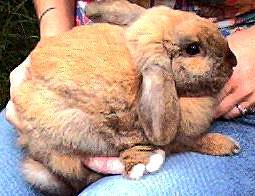 Shuman came to us from a good Samaritan who found him in her yard.  He was hungry and hurt. She had located Native Animal Rescue, who provided emergency care, clean up, antibiotics, and wrap.  They told her to contact the Rabbit Haven.  We received him, and he was perfect - a very small, adorable, affectionate, lovely chocolate brown mini lop.   Perfect except that one of his back legs swung out and dangled to the side.  It appeared that the leg was shattered and that there was a possible hip injury as well.  One of his ribs had also been broken.
Even though he was badly injured, this delightful bunny appeared to be in good spirits.  He was eating, acting sweet as pie, and doing everything he could to hop around - even in his little carrier.  We got him into our vet, Drs. Calvert and Hawklyn at Creekside Veterinary Hospital, where the treatment quickly escalated to orthopedic surgery! 
Yes,  we knew it was going to be expensive (The Rabbit Haven has no county or foundation support.   We operate on individual donations, or just pay out of our own pockets!), but the only other choice was euthanasia.  Once we looked at the x-rays, it was obvious that the leg had to be pinned, if possible.  We were also told that, if pinning didn't work, the leg might have to be removed.  After one unsuccessful surgery to attempt pinning and fixation, the leg bone broke again.  So Shuman would have to undergo yet another surgery to have the leg amputated.  
Our hearts went out to him and we decided he was going to get the lifesaving surgery that he needed.   Rabbit Haven paid the entire bill, over $1,800  (even with the 20% discount we receive as a non-profit and animal rescue group).
This precious boy is about 4 1/2 lbs. of joy - a  lovely golden brown with bright, expressive brown eyes and a darling face and personality.  He kisses and nudges for affection.  He is  a trusting, loving boy - so very special.  And he's now found a permanent home, with 3 rabbit friends, 5 cats, a German Shepherd, a Sheltie, and a conure.  Oh, and 2 people....  If doing 3-legged binkies is any indication, Shuman's a very happy bunny.   He's in the process of bonding with Scout, (another story all her own!) and has already developed an affectionate relationship with Beamer, a 100-pound German Shepherd!
Many thanks to all those whose donations and extraordinary efforts made it possible to save this sweet bundle of furry energy: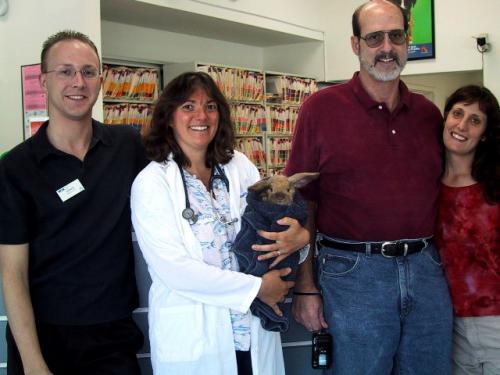 Drs. Calvert and Hawklyn of Creekside Vet Hospital in Soquel,  who did Shuman's initial emergency evaluation and x rays, particularly  for their quick diagnostics and stabilization of Shuman (including wrapping his leg for transport) to prevent further injury and bleeding.
Drs. DePunzio (shown above in white lab coat) and Harvey  from the VCA Bay Area Animal Hospital and Dr. Fitch from Veterinary Surgery Associates .  What a team!   If any of you ever have a bunny needing orthopedic surgery, these doctors are highly recommended.  
Rick Jacobel (shown above - the tall man in the burgundy shirt), who transported Shuman all the way to Oakland's VCA.
Steve of the Campbell foster site, who provided weeks of rehab, help, and tons of TLC, including 24-7 classical music, to help Shuman recuperate from the amputation surgery.
Project Purr,  a cat rescue organization in the Santa Cruz area, who provided a donation toward Shuman's veterinary care.
And the many individuals whose donations - specifically for Shuman and generally for the Rabbit Haven - made this and many other rescues possible.