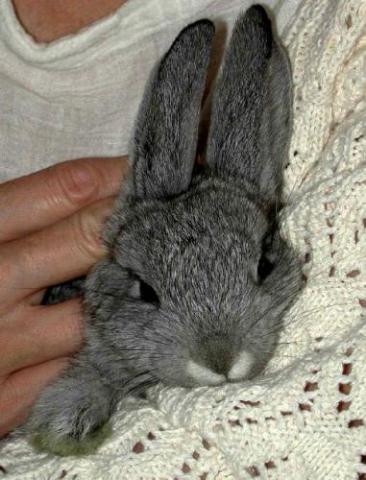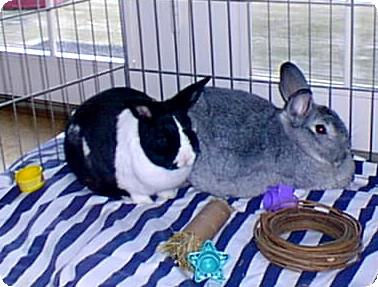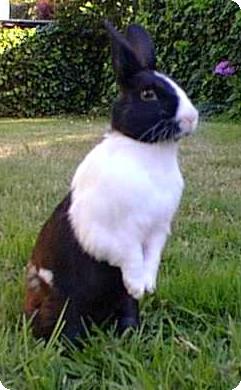 Sweet Suki was found in a box at the doorstep of a local feed store with some other adult bunnies.  Little Suki needed to be fed, so she stayed with Auntie Heather.
During this time, Ezekiel was also in medical rehab. When Ezekiel was surrendered to us, his back leg was just hanging.  He came in with another bunny, Bach, who did not survive.  Ezekiel has a special spirit, and he healed beautifully.  He gets around just fine - not a limp in site!
Suki attached to him big time!  She snuggled right in and would not leave. So they have been together ever since.  Sweet Suki grew up as Ezekiel was recovering, and, as he did, she groomed him and cared for him as he had cared for her when she was a tiny baby girl.  A most precious relationship.
Well, most people didn't want to adopt a pair with one rabbit injured, but Suki still wanted him so that was that.  We could not bear to separate them.  They attended one show after another, and still no home for this pair.  Ezekiel developed other medical concerns, and Suki took care of him.
Their relationship grew ...  as did Suki - to twice Ezekiel's size! 
And, just when it seemed that we might have a pair of permanent rabbits, along came a loving family who just couldn't see the two separated.
It didn't phase them at all that Suki is, well, a bit large and that Ezekiel has some medical concerns.  They could see how lovely and gentle these rabbits are, and so they adopted the bonded pair! 
Congratulations to our own web developer and her husband - Sandy and Tris -  proud new parents of Suki and Ezekiel.  Suki & Ezekiel have taken over their new home.  The couch is gone - well, one tiny piece of it, and some carpet seems to have disappeared - hum, now where did that go?  But S 'n' E are so happy,  they act like little kits!  Their patient parents continue to cover the floor and to create new adventures for active bunny minds and feet. 
We miss them, but they are so happy!  This is what we live for:  Great placements into  loving homes.