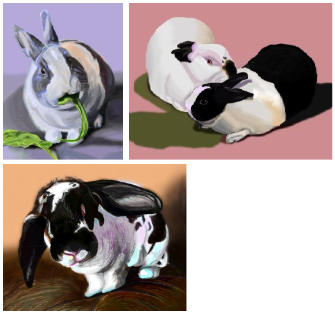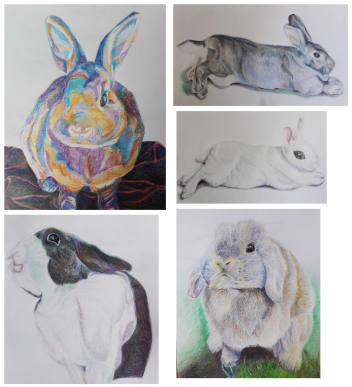 Portraits offered for a donation to the Rabbit Haven
Mary has volunteered to help the Rabbit Haven raise much-needed vet care funds by creating pet portraits of your rabbit, or other animal.
For a donation of just $30 or more, you'll get an electronic copy of a drawing of your pet, or one of our animals. For only $50 or more, she will mail you the 8" x 10" original within the United States as well as the electronic image.
You can get additional animals in a portrait for $10 per animal.
Please send a digital image of your animal companion, and an optional style preference (examples: realistic, pop art, cute cartoon, black-and-white, high contrast, etc.). Alternatively, you can specify a Haven rabbit, guinea pig, or hamster and she will use their existing current adoption photo.
Support the Rabbit Haven with a gift of $30 or more today! There is no limit to the number you can get. Great Mother's Day gift and/or a perfect addition to your own home art collection. 
To get your unique pet portrait:
DONATE TO THE Rabbit Haven at https://therabbithaven.org/donate from April 6th, 2020 to July 10th 2020

Forward your donation receipt along with one photo of one pet, or tell us which Haven adoptable animal portrait you want by email to Director@therabbitbhaven.org . Please allow 2-4 weeks to receive your one-of-a-kind artwork by email and additional time to receive the original.
Special thanks to Mary for her fantastic artwork. Take a look at a few pieces Mary has done in the past.