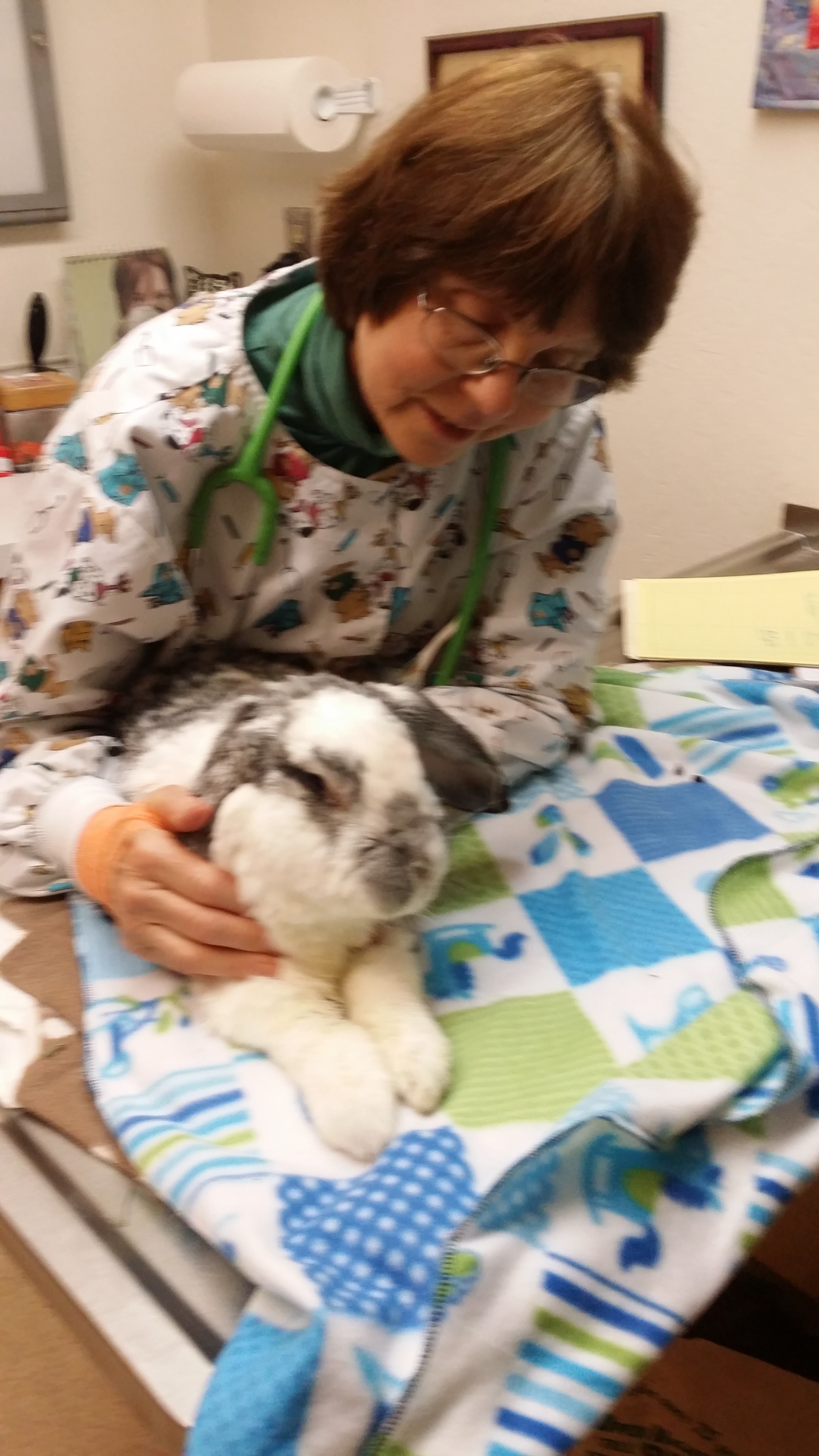 In an attempt to gather all the medical expertise possible we took Dumbledore up to see Dr Harvey.  She reviewed his x rays and medical records and carefully evaluated is body.  She checked all his neuro  reflexes focusing on front then back legs. She placed him back on Baytil and increased his metacam dose.  She planned out acupuncture and laser therapy sessions  for him and shared a few techniques to help position him.  She wants to wait to begin PT in water (maybe a month or more) . He still need palace pet bedding and large padding to absorb the urine – He still cannot move into a litter box .  We discussed using pads or diapers with large onesie to hold them on.  We have used this  successfully in the past.   Off to shop  tomorrow.
He has lost more weight so we need to work harder to keep feeding him.  Dr Harvey is checking to see where we can get an MTI which she may want a bit later.  They are very expensive and it is essential to find a MRU center that can do rabbits.
She stated that his improvement is good and he has will need several months to heal.  She stated that his injury is most likely trauma of some kind.  Given his weaken body, weight loss and overall health she said this type of injury can occur with just the wrong move.  Truly a rabbit accident.
She thinks it is unlikely that it is a tumor or an infection in the spine although we offered the medication just to be safe.  The metacam is for pain and inflammation.  We will know more in just a few days –We will keep you posted on Dumbledore's progress/.  Ok Off for laser therapy.
Dumbledore rested comfortably on the long 3  hour drive home.  He was such a good boy.  He is so tired.  It was a long day.  Send you love and get well wishes to Dumbledore
The Rabbit Haven a greater Bay area Ca nonprofit – 501c3.  831 239-7119 Director@therabbithaven.org www.therabbithaven.org