April 30 2005:
Hercules is proving that he is a very strong boy. He had his first surgery this week and is already playing and now he can eat much more easily. He did lose 5 molars and had a lengthy surgery but thanks to the skill of Dr Hawklyn, he is well on the way to being free of the terrible abscess that nearly cost him his life.
Far from the streets where he was abandoned, Hercules has his own roomy space in foster care with Auntie Heather. Another surgery is to be performed to correct the other side but we need to wait to let him gather strength.
We love him! Please send get well wishes and healing energy . Love to everyone that has helped so far. Tiny Hercules' medical expenses are over $800.00 already, not not including his special food (Critical Care) and other medications he must have. His prognosis is excellent! He is almost 8 weeks old now.
If you would like to contribute to his support click the PayPal button or send your check to:
Rabbit Haven -(Hercules Fund)
PO Box 66594
Scotts Valley, Ca 95067
We are a 501(c) 3 non-profit organization. Donations are tax deductible
July 26, 2005
We continue to work to help him heal. I think he is almost ready now for his BIG surgery- We'll know more today. This last big surgery may finally correct his extremely damaged jaw. The majority of the cost of this final surgery is being donated by Dr Hawklyn of Creekside Veterinary hospital. 
For the past few weeks, Hercules is able to eat on his own! Of course my mini Cuisinart is getting a workout!! Each morning and evening Hercules eats moist pellets and at least one cup of finely chopped veggies. He is incredibly loving and precious. He also needs a midday snack (more chopped veggies. Anyone have another Cuisinart? I am using the mini prep one.) This Loppy, lanky little boy is such a joy to care for. Even after two tough surgeries and losing all his lower teeth, he still has maintained his charming personality. He comes running for his breakfast - very cute indeed. He brings a smile to everyone who sees him. He takes the time to visit and loves his pets.
This little fellow is best friends with Lilly (the other jaw -tooth surgery bunny)
Lilly is a white dwarf who arrived injured at the San Jose shelter. What a powerful sprit she has! Lilly has also recovered against all odds. She also goes in today for another check up and to start on Pen-G. We are hopeful that this will help her as all surgeries have not allowed the jaw to close and she needs more post op care before beads can be effectively used. Darling Lilly has lost all but one of her upper molars and part of her jaw. She grooms Hercules often and is very protective of him. She seems to know he has no way to defend himself - but she is a bit intense in this duty.
This injured pair comfort and love each other so much. What good fortune for these two medical needs bunnies.
Hercules looks just like the -Guess how much I love you bunny - He will have another minor surgery today.
Those wishing to help with Hercules' or Lilly's medical care costs, please send whatever you can to The Haven PO Box 66594 Scotts Valley Ca 95066 or just on our web and use PayPal. The cost of their care is Very expensive! We could use assistance to help cover the bills for their
care. They are so worth it! Watch for updates. Love, Auntie Heather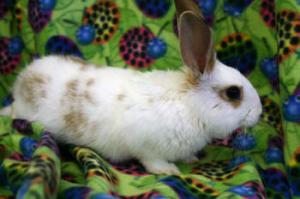 This very special baby bunny was abandoned on the streets to fend for himself!
He needs your help! He has terribly injured front teeth and lower jaw. Hercules is the name his first foster mom gave him. She hopes he will grown into that powerful name. 
He came into the Haven severely underweight, terribly dehydrated and unable to eat or drink on his own. He is one of the few bunnies that will survive being dumped into the streets. (most die within 72 hours!) He is a lucky boy - thank you to volunteers Sheri and Heather for your love and support.