Sadly we must report that Sweet Dilly aka Piglet crossed the rainbow bridge on Friday during his second surgery to repair his lower jaw which had been broken. 
The Haven spent in excess of $1200 trying to save Dilly. Please help if you can!
Dilly, aka Piglet, a wonderful, gentle, loving bunny boy lost his life Friday, October 6th. He came to us with facial trauma and was rescued as a stray from a local shelter the end of June. He had broken front teeth, and internal and external facial injuries. We loved and cared for him giving him the medical and emotional support her needed. No matter what, he always was loving, trusting and sweet. He snuggled, kissed and loved to explore and try to eat new foods. We had begun to try a different type of processed organic greens and he was up for it! This adorable boy won the hearts of all who spent time with him. The veterinarian and staff did everything in their power to save him. His significant trauma injury and resulting abscesses, tragic jaw break, and broken teeth were just too much injury for this tiny boy to survive. He made it though his first surgery perfectly, then during his second and to be his last surgery he arrested.
We all miss him terribly - He has left such a deep void. It is difficult to let go.
So many people wanted to help - people from all over the country called and wrote to ask about him. Several people offered to adopt him. Thank you everyone. Sadly, it was not meant to be. I could never get him well enough to go. Now he has crossed the bridge forever and he is home. I imagine him completely well and bouncing around on sweet fresh grass in perfect happiness. No more pain, no suffering, perfect teeth and only love in his world. Yes, all the love his heart can hold.
His fellow bunny patients still look into his room - no one has gone in. They seem to know.
Please contribute to his memorial fund - click here to remember Dilly.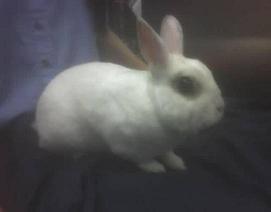 Dilly (formerly Piglet)
Dilly was found stray in July 2006 with severe facial trauma - broken front teeth, Missing lower tooth, with one broken lower incisor and both front teeth broken off to show only ragged tooth edges.
No one knows how this happened- as he was a stray dumped at a local shelter. The Haven rescued him as he needed immediate medical care. When he first came to us he still had bruising on the outer part of his face and the inside of his mouth was also damaged showing abrasions- We treated him with pain meds and antibiotics and got his through those first few months. We thought that was the worst of it. That was not to be the case.
Dilly, a darling Hotot rex, was first examined by our vets and it was determined that there was significant injury and that we would not know the extent of the damage for several weeks. His initial prognosis was good though. His jaw was functional and did not show sign of a break. Even after his injury he was a trusting, loving boy with a good appetite. Initial x rays looked ok (all things considered) they did not see jaw damage initially. It was hoped that his teeth would grow out and that he would be ok. Dilly was put on meds and neutered. His condition improved.
In September, an abscess popped up in his upper jaw and surgery was needed to save his life. Seven teeth needed to be extracted. He still eats pellets on his own somehow and was put on Penn G and other antibiotics to help get the initial abscesses under control. He has improved again and is eating on his own. However, he still has the lower jaw injury and new abscess to manage now. His second surgery is set for Friday the 6th of October.
Dilly is doing better, but he still is facing this last risky lower jaw surgery - He has an abscess in his lower right jaw now where the jaw is damaged. The severe tooth trauma has caused very serious injury for this little guy. We are hopeful this surgery will set things right for him so he can live a full healthy life free of abscesses. We are hopeful that the next surgery on his lower jaw will repair the damage that has occurred.
He is a strong boy and has a tremendous will to live! This spirited sweet fellow is gentle, loving and deserves every chance to have a normal life in a loving family.
After his next surgery he will require care for a few months and hopefully will be able to go home with a special family who will love his the rest of his precious life.
You can make a cash donation to help with Dilly's expenses via Paypal, or donate by check