The tiny boy in this pair had terribly broken back legs and other injuries. Despite the best care possible, he did not survive. Fiona was adopted into a terrific home as a companion for another bunny.
Evan, our beloved golden baby boy, has crossed the bridge
Evan was indeed a special little baby boy. From the first moment I saw him when he was rescued from the shelter, you could tell that he was an exceptionally gentle soul. His sister, Fiona, also had a shining way about her. Two precious jewels! I was thrilled to whisk them away to comfort and safety.
Fiona always showered Evan with affection. She was constantly cleaning his face, snuggling him and helping him move about. He did have balance issues. Something was not quite right with his back legs. We assumed that his legs had been broken, as they were bent severely. He was rushed to see Dr. Harvey. As it turned out, Evan's leg injuries were worse than we thought. They were more damaged and required special splints, which Dr. Harvey applied with her usual excellence. Evan's prognosis was guarded. Nonetheless, we had high hopes for his recovery. We knew he'd most likely not walk like other bunnies, but he'd have his own kind of walking. He didn't seem to mind.
His sister, also adorable, kept him clean and seemed to anticipate his every need. Evan eagerly drank his baby bunny formula. He was such a happy little boy. He loved being held and Stefan and Melanie were the perfect parents. They also lived closer to Dr. Harvey, so that was perfect. Evan needed so much care. Dr. Harvey worked continually to improve and make Evan's splints work effectively as he grew. He had the best of care. Her splints were made extra comfy and he even learned to walk about with them. He was happy and everyone loved him.
Sadly, one evening, quite suddenly without any warning at all, Evan seemed unable to move. The foster Dad raced to get his carrier for an emergency trip to Dr Harvey. However, in that moment, Evan slipped away into the land of rainbows. Fiona and her new little friend Emmet remained right with him. Fiona kissed his face -just as always- then she just seemed to know it was over and he was gone. She lay down and looked at him. After checking Evan to be certain a vet visit was not in order, Evan was returned to his sister and friend for one final goodbye.
We are all heartsick and miss Evan so much. Fortunately, Fiona has some comfort in the special friendship she formed with Emmet, her newfound friend. Emmet had only recently joined the tiny pair. Yet another tiny, abandoned orphan. Emmet has been a great help. Now they both need each other more than ever!
Foster parent's Stefan and Melanie are so crushed. Losing a tiny one or any bunny is so painful. It never seems to get any easier to lose a bunny. It hurts! We send our special healing wishes to them. They provided exceptional care.
At least now little Evan is free to do binkies to his heart's content, safe in the land of rainbows. He must feel all the love we have for him. He naturally brings joy wherever he goes. I can just see him happily munching on sweet meadow grasses, surrounded by all he needs or wants. I feel certain that he'd be with other bunny friends, playing, resting and in perfect joy.
Goodbye Evan, sweet little bunny boy. We will always carry you with us in our hearts and in every memory you gave us. Kisses little one. Thank you for being in our lives.
Love, Auntie Heather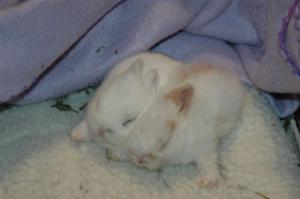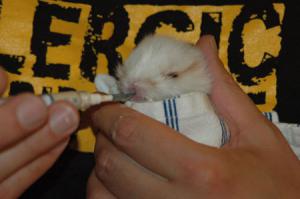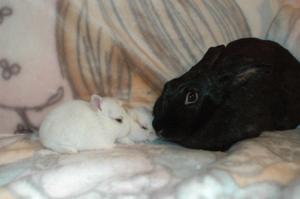 Fiona and Evan, two newborn babies, rescued from a Silicon valley shelter - these infants were found in a field - no mother anywhere and they were near death. The animal control officer brought them in and the Haven rescued them - a wonderful Haven transport volunteer brought the babies to our nearest medical site. They were so starved and in very poor condition. They have been hand fed and one nursing mom tired unsuccessfully to feed them, now they are in the Bay area with a foster site and another nursing mom that is helping!!! They are also being bottle fed by their foster caretakers.