This is a photo of Zoey resting in her bed at home tonight post surgery. 
Send lots of love to Zoey -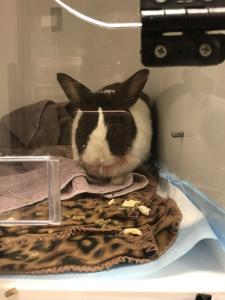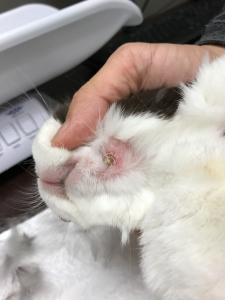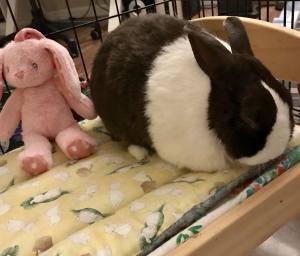 Lovely Zoey had emergency surgery today when the root of one of her teeth pierced her chin! Shocking!
Oddly enough Zoey had been eating and drinking –but her astute foster mom noticed a discoloration on her chin when she checked she found the hardened open area on her chin.  She went straight to the nearest Haven veterinarian.   In a race to find the best surgeon for her we were so fortunate to have Dr Cote of Adobe in Los Altos!   It was a miracle that he had one opening for surgery- He worked on her during a long surgery and finished at 8:30PM 6-13th .
Zoey will go home tonight with her foster mom and have post op support there.  Happily Zoey's  foster mom is experienced in these matters and can offer Zoey great support.
If you want to help sweet Zoey please click here  and note for Zoey  when you donate.   All donors will receive a thank you card from  Zoey!
Zoey is a foster bunny with The Rabbit Haven,  a non profit rescue and adoption organization ins the greater Bay area of CA –a 501 c 3 –You donations are tax deductible
Please join us to help Zoey heal – We need to raise 750.00 to cover her surgery .   she also needs get well wishes and your loving support. https://therabbithaven.org/donate