A special day for Helena
When Helena arrived she was in extremely poor condition, matted and unable to move, covered in injuries, with a terrible eye infection and URI. She had also been exposed to the nasty flood water in San Jose, so she needed to be wiped down to avoid further infection. But today she has turned a new page and is healing. After several days of recovery, visits to vets, medications, wound care, and daily ongoing medical support, she had a special day. Today Helena had a spa day! Wonderful Diana took her in for a relaxing romp in a play room and then a careful grooming session to help rid of her of her matting. She had to be partially shaved on arrival as her mats were so tight she could not fully breathe. It was also very painful for her to have this sheet matting. We wanted to remove more mats, however due to her unstable medical condition she could not be groomed further until today!
Today she received that hair cut she needed. At the end of her grooming experience the pile of fur looked like another rabbit. Helena did not care one bit. She seemed relieved, happy and content. She loved her day, her pedicure and hair cut! She truly enjoyed her day with Diana. Look at her photo at Diana's spa on top of a cardboard house looking out at her surroundings. Her eyes can both open freely now and her lacerations are healing. We have high hopes that this rabbit is going to heal. She is a wonderful rabbit. She is healing emotionally too. She no longer scrambles to hide her head when she sees a human. She knows she is safe and loved.
Her energy has improved and she can now jump up, sit up straight, breathe relatively normally and is regaining her health. Lovely Helena is also gaining weight. Thank you everyone for sending get well wishes her way. She is improving significantly. Thank you for your love and support. Next, Helena will be able to move into a moderate medical support site and into an x-pen. Her nebulization is stopped for now. She is just taking oral antibiotics and eye drops for her terrible eye infection. Her lacerations are covered with SSD cream.
You can see that she feel so much better. She sees her vet, Dr Hilary Stern, DVM of Animal Hospital of Soquel again in a week. Tonight she is a very happy girl. If you would like to donate toward's Helena's ongoing care you can use The Haven's PayPal account online or donate by check. She sends her love and thanks!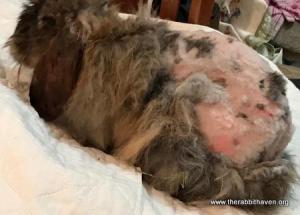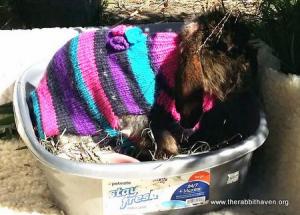 Helena, a marvelous french angora bunny, came into The Haven late at night from a local shelter. She was covered in sheet mats, soaked, dehydrated, cold, and in an unstable medical condition. She was barely able to move because of matting that hampered her legs and chest area. She was found abandoned near a school yard and totally helpless. Helena was in such pain that even touching her caused her to grind her teeth and cringe. The shelter called us to rescue and we took her in right away.
Amazing Sarah jumped in her van and hurried to the shelter to pick Helena up. She made it just in time prior to the shelter closing! Helena was immediately given pain meds, fluids, and warming to stabilize her. Some of the matting was removed so she could breathe better.
This poor bunny is exhausted. We got her out of the shelter just in time to save her life. She must have been on the streets a while to get into such a bad condition. She is now on Critical Care assist feeding, medical support, and we are working to help her with her eye issues, congestion and hypothermic reaction. She is at least 1.5 pounds underweight! This loving girl is with our medical support team.
One of our special groomers is working with Helena to free up and remove as many of her mats as we can. The mats are interfering with Helena's movement and must be carefully combed out and removed. Due to her mats and the fur loss they caused, she is wearing a small sweater to keep her warm. We are also maintaing a warm environment around her to be sure that she keeps her body temperature up.
Please send prayers for Helena's healing. She will need all the help she can get to make it through this emergency. She is in horrible condition. Helena will need veterinary exam and additional support including medications, chest x-ray, and nebulizing solution. So please contribute to her care fund using The Haven's PayPal account online or donate by check.
Love to everyone, we will keep you posted on Helena's needs and her progress. She has an appointment with Dr. Hilary Stern, DVM at Animal Hospital of Soquel on Monday February 28. We will find out more about her condition then. Please donate today, and help us get Helena the care she needs to recover from the neglect she has suffered.