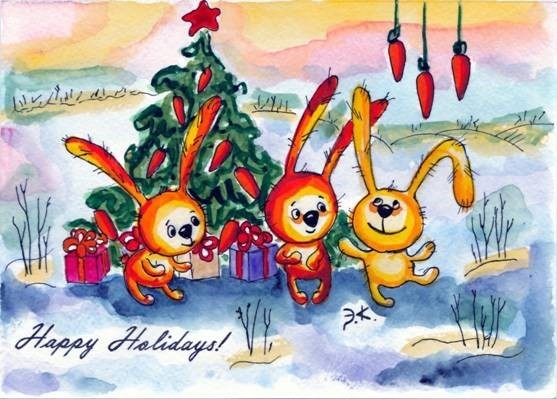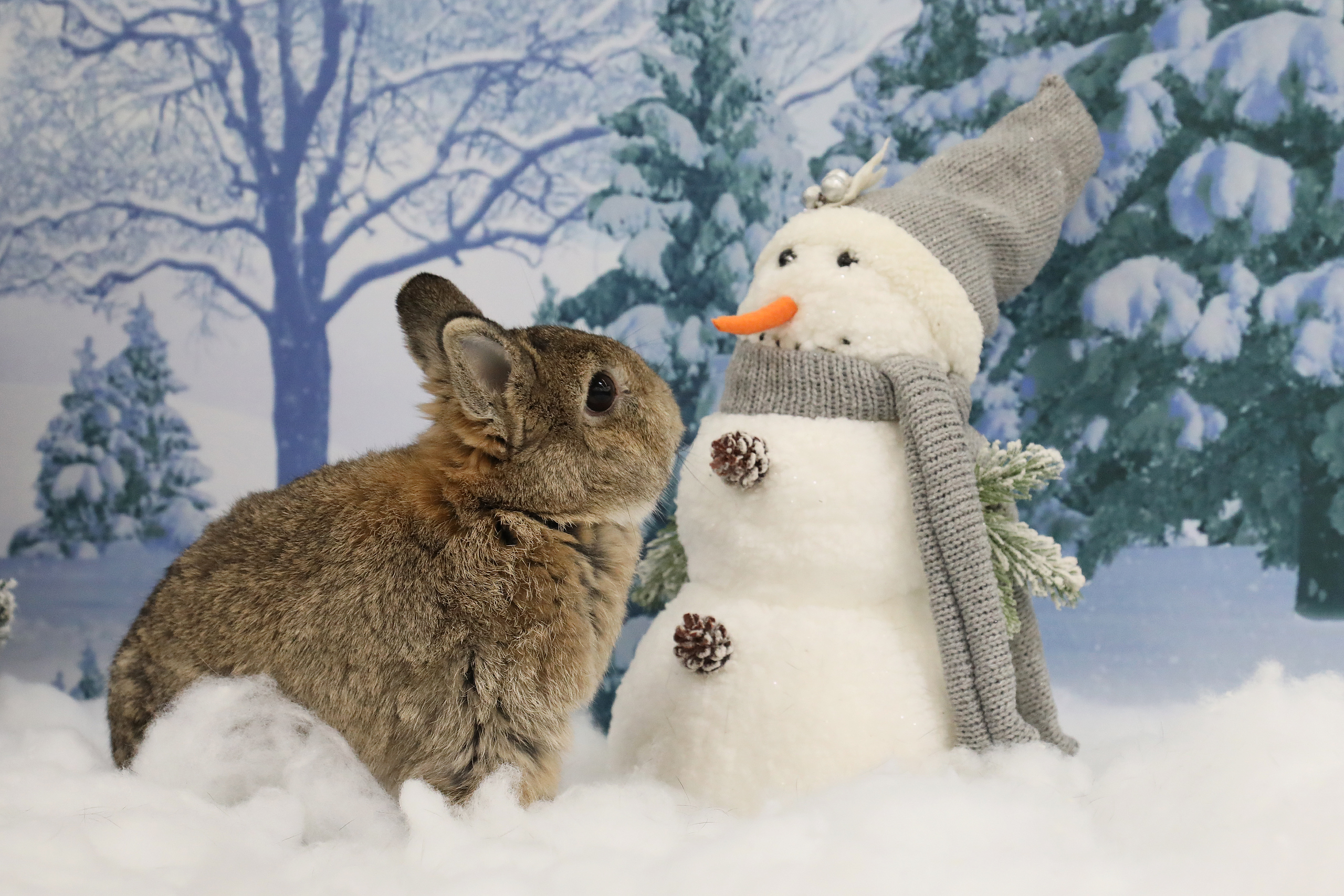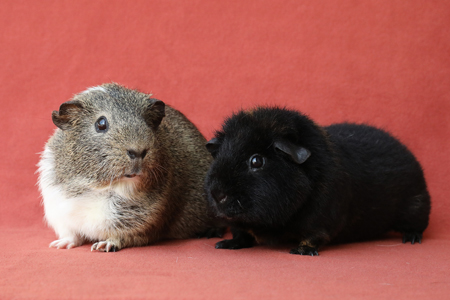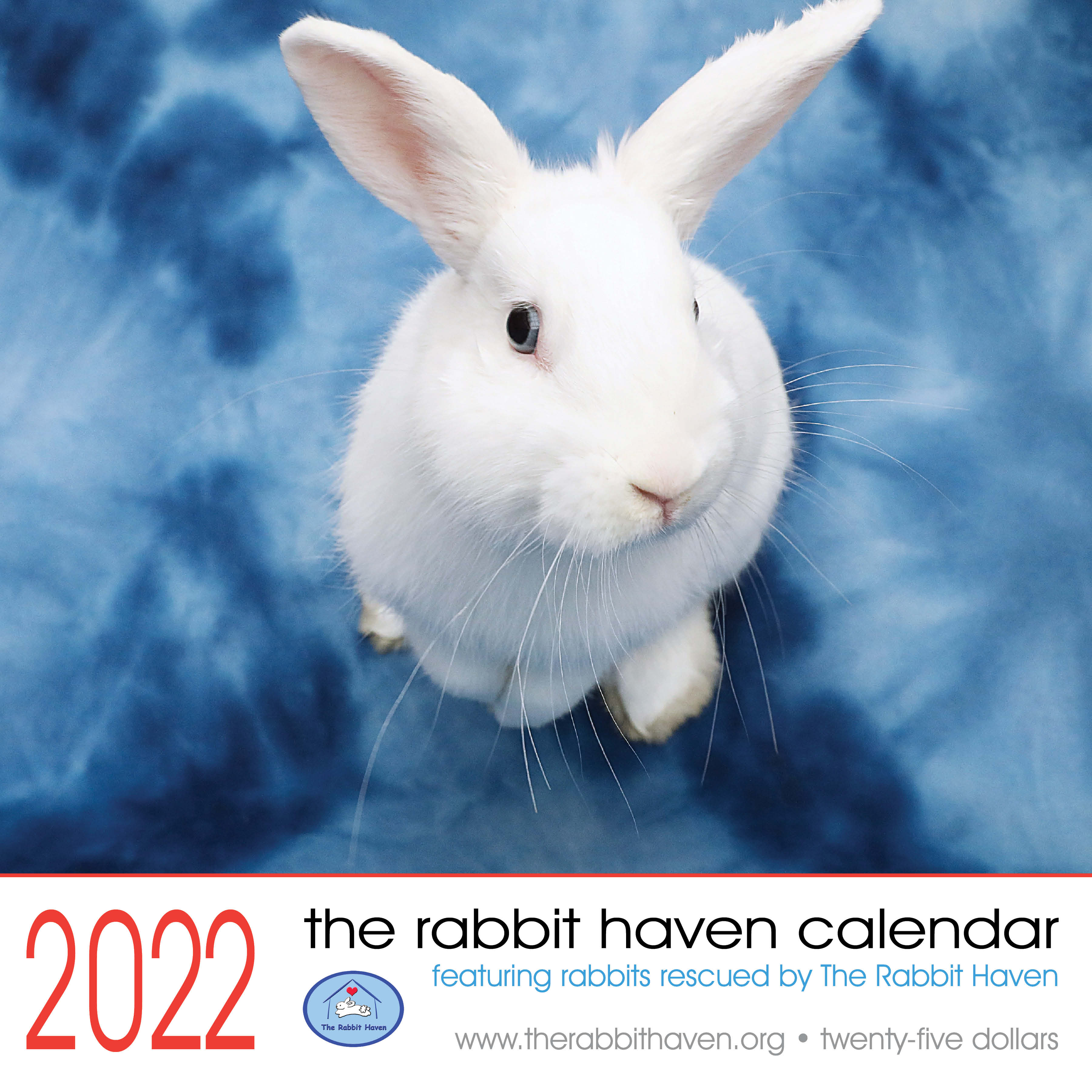 Happy Holidays from The Rabbit Haven  
December 24, 2021
Dear Rabbit Haven Family,
Wishing you a wonderful holiday season and the very best new year -2022!  Together, we have accomplished so much to save abandoned rabbits and to secure homes for them in 2021. Read on to see what you helped us achieve in 2021 and to learn of our plans for 2022.
Haven rescues, foster and adoptions:  With your support we took in hundreds of rabbits, placing rabbits in foster homes, then finally into adoptive homes.  We built up our foster support system to support rescued rabbits. We currently have 160 active fosters. Our community volunteer foster network allows our program to operate saving hundreds of rabbits every year
Helping overwhelmed shelters: We arranged transports to north and south county areas for transferred rabbits from overwhelmed shelters.    We spayed, neutered and microchipped all adult rabbits in our care.  We vaccinated all rabbits in the Haven and now continue to vaccinate against RVHD as they come into the Haven.  Haven helps when major rescues occur:  We offered full staff support to the San Martin shelter May through August 2021, helping them care for over 100 tent city rescued rabbits!  Shelters rarely have the staff to manage such a large number of rabbits at once.  The Haven organized staff and supply gathering for the San Martin shelter rabbits during influx of Tent city rabbits.
Vaccine clinics:  In partnership with Exotics Pet Clinic of Santa Cruz TRH set up vaccine clinics for Rabbit Haven foster rabbits and a special clinic for San Jose shelter rabbits and the community.  Clinics are planned for 2022.  We are so fortunate that we have not had one case of VHD the Haven.  We need to stay vigilant.
COVID restrictions continued, but we found a way: Due to COVID, all our Haven adoption show sites had to close.   So, we put together an adoption team to work offsite.  Haven adoption team members held one on one appointments off site for adopters during the week and weekends April 2020 through August 2021.  With their help we were able to maintain our adoption numbers.  Hard to coordinate but the team made it work.  
Adoption Shows reopened in 2021!  The Rabbit Haven reopened our Los Gatos and Santa Cruz adoption shows in September. Pet People hosts the Los Gatos show dan Pet Pals hosts Santa Cruz area.  We have amazing support from these two businesses. We are looking forward to continuing these adoption events in 2022.
Caring for rabbits all year: During COVID many vet offices stopped offering nail trims services for rabbits!  TRH responded by opening three nail clinics per month serving community and adopted rabbits in Santa Cruz and in Los Gatos areas. It is important that rabbits have nail care and mini health cks during the year. These services will continue into 2022.
Education at the Rabbit Haven:  TRH held a 2 day adoption event at Pet Food Expresses in Campbell. The live streamed event was popular and we were able to reach out to viewing audience to show how rabbits prefer to be housed and what they need to live a cozy life.
Rabbit care items offered:  TRH brought in Bunny Bee retail to our nail trim events and into adoption shows. Retail is a hopping success- This group offers soft items for bunnies are available at each adopt event and at nail trims.  Now our adopters can obtain needed supply for their rabbits. We plan to continue this service in 2022.
Providing great photos of rabbits: To make sure our rabbits are well represented, we arranged for professional rabbit photos for Haven, San Martin, San Jose and Santa Cruz Shelter rabbits.  We then promote the rabbits on social media, helping find homes for the rabbits. A great photo of a rabbits makes a big difference to adoptions. Of course, this program must continue.
Helping small animals:  The Haven expanded our services to serve guinea pigs and other small animals when we became aware that small animals truly needed our help.  They had little promotion at shelters and few found adoptive homes.  Cavy Haven was opened and we have been able to serve a large number of guinea pigs this year. Cavy Haven is needed.  In 2022, we will hold special adoption shows for guinea pigs.
Holiday Gift bags for Shelter rabbits:  The Rabbit Haven organized the holiday gift bag program for shelter rabbit this year making 350 gift bags to be taken our last week of Dec and first week of Jan 2022. It is wonderful to bring gifts to rabbits in shelters during the holidays. This event is possible due to volunteers and helping businesses Oxbow, Small Pet Select, Scotts Valley Feed, and Binky Bunny.
Fundraising to maintain services: We are doing our part with a variety of fundraisers during the year.  Calendars, Tee shirt sales, animal portraits, holiday photos shoots, and disaster appeals just to name just a few. But major donations from our community allows us to provide the bulk of our services.
Current situation:  The Rabbit Haven is in the middle of one of the worse rabbit dumping seasons in years. Most shelters are brimming full of abandoned rabbits. Many shelters are not even accepting rabbits at this time.  This means rabbits are being abandoned in parks, along roadways, or in the "wild".  In addition to this tough situation, most rescues are also full -- including the Rabbit Haven.  I call this post pandemic dumping.   We are trying our very best to keep up.   More than ever before, we need financial support to care for such a large number of rabbits!
In summary, The Rabbit Haven & Cavy Haven have had an eventful and productive year.  However, we have a great deal of work to carry out to save rabbits who need our help in 2022.   We are able to do so much thanks to you.  Your support means for world to all of us who work with rabbits and small animals 365 days a year!   With your support we can continue to carry out our life saving work.
Today is a great day to make an annual contribution.   Your financial support gives us the funds we need to provide foster set ups, equipment, medication, food, medications and vet care!  To donate, click here. 
Thank you in advance for your love and support!
Love to everyone and every bun -Welcome to a wonderful 2022!
Auntie Heather - Director@therabbithaven.org   831 239-7119