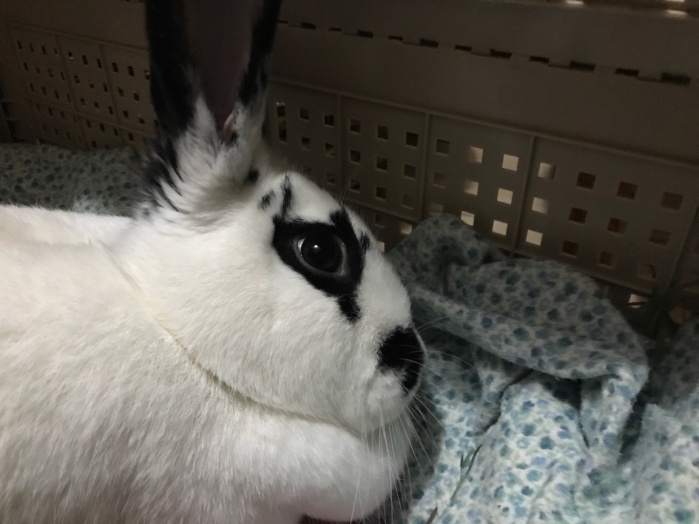 Dear Haven Family
Jillian's transport angel, Sarah (Haven's shelter advocate) has delivered her to Dr. Stern in Santa Cruz.
Her carrier is a larger one, a top loading carrier with front door.  She needs this type of carrier for safe transport. It allows her room yet keeps her stable. The carrier needs to be covered. Once I did that, she stopped spinning.  She will lose balance and roll in the car when we are moving (due to movement). She is a bit confused but she is trying so hard. I kept my hand on her back and used fleece rolls on either side to help her while we drove.
When calm and relaxed, she is fairly erect.  Can find her pellets, greens, hay.  Not sure how much she's eating yet, but is eating some.  
By the way - she insisted I bring her toy from the shelter.  So precious.  I was going to leave it, but she tried to pick it up and nudge it at me as I was getting ready to pick her up.  
She's a bunny of strength I think.  Curious, came forward to greet when I opened her kennel door.  Ate her little pieces of kale as soon as shelter volunteer gave them to her.  Even in the car, when we were parked I could feel her nudging my hand and trying to peek out the doorway.
Love to Jillian as she begins her journey