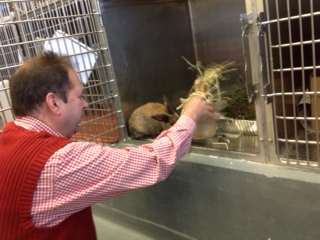 Help Wanted to help little rabbits.
The Rabbit Haven is a rabbit rescue and adoption organization located in Sunnyvale, Los Gatos and Santa Cruz California
We have an open recruitment at this time for counselors, adoption show support staff, show set up staff and transport volunteers.  The Rabbit Haven now holds 4 adoption shows per month.  Two in Santa Cruz, one in Sunnyvale and one in Los Gatos.
Counseling is a wonderful component of the Rabbit Haven. Our counselors are trained to provide friendly, supportive information to potential adopters and fosters.  Full training will be provided. We are seeking outgoing, supportive people who enjoy working with the public. 
Adoption show set up involves coming to the show site, and setting up x pens litter boxes and food water dishes for rabbits.  In some show sites we also put up signs.
Transport is an awesome support activity which occurs two times each month  - Our transport center is in Los Gatos and the destination is to PetPals in Santa Cruz.
Happy, friendly people wanted – Call Heather 831 239-7119 for full details – positions open right away.  Email if you prefer Director@therabbithaven.org