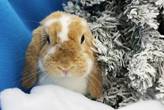 Wishing everyone and every bunny a Happy Holiday season
Here at The Rabbit Haven & Cavy Haven we are busy rescuing, obtaining medical care for those in need, opening new foster homes for all the new little ones and securing adoptive homes too. We have been able to maintain normal intake and adoption numbers.  A bit of a miracle to say the least. We are operating with less funds however so we hope to raise much needed funds to support our rescued animals.
This year has been filled with the unexpected. COVID, lockdowns, heat waves, electrical storms and huge fires.  To top it off,  VHD (Rabbit Hemorrhagic Disease) entered the USA.  We scrambled to meet all these needs.  With you help -- We did it! 
We have made so many changes to our program, each week addressing new concerns or rules/city and state requirements – We are now offering Zoom training for foster and adopters, then safe meeting to give the rabbit to the family.  We are doing our best.  With your help we can make it through this tough year. 
Sadly, all our special events were cancelled..  Adoption shows, Bunnyfest, our main fundraiser!    We also had to cancel our Bunny Hop events.    However, we have redesigned all systems to continue adoptions and rescue. We are able to continue education, foster set up and adoptions thanks to our dedicated Volunteer adoption/foster team.  We are doing our very best to remain as the safety net for animals in need.  We are already all volunteer so there is no place else we can cut expenses. Rabbits & Cavies need medical care and food.  Infants need formulae. 
Given we lost many of our incoming producing events, we needed to draw on emergency savings to make in through the past 9 months.   It will really help if you can donate at this time.  
Great news!!! We have a $2,000 match to start off this campaign!  So now is the time- Please help out and make your donation to the Rabbit Haven today – Our $2,000 match doubles your donation -
Please do what you can to help these precious little ones.  Happy Holidays to you and your family.  To donate please click here:  https://www.therabbithaven.org/donate
Love to everyone - Auntie Heather