There is still time to donate to The Rabbit Haven and help save the lives of rabbits!  Your tax deductible donation will make a huge different to all of our rabbits!  Your contributions help us rescue and provide needed medical services and foster plus adoption services to hundreds of special animals we serve.
Click HERE to donate.
As you know every year the Haven takes in hundreds of rabbits, guinea pigs and hamsters.  And a mouse or two.  Many of these rabbits and cavies are sick or injured.  Most require specialized medical support.  Your support makes it possible for us to continue our work. Rescue, Medical care, foster set up, adoptions and education services. 
 
2020 has been a most difficult year for our rescued animals.  If you have not already made a gift to the bunnies this holiday season, we hope you will consider making one today.  If you have already given, we appreciate your generosity! 
Here is just a few of the rabbits  you have helped in 2020:
Hopscotch was living in horrific conditions when we rescued her.  She had terribly mallocluded teeth that protruded out of her mouth, a huge abscess under her chin and a tumor on her abdomen.  After two surgeries her teeth have been trimmed so she can eat and her huge abscess was removed. Next for her is spay and tumor removal – then a tooth extraction in Feb.  This sweet girl had been badly neglected yet she is making a remarkable recovery in The Haven.
Nyssa and Charis.  These precious girls were thrown away in a dumpster locked inside their cage.
 
Nyssa presses against Charis for safety and love.  We are providing intensive care to them now to help them gain weight, remove the mites and fleas and help them heal emotionally.  They melt when being petted and have learned that good food will always be at the ready when they are. They have begun to regain their health.   Blessing to the good Samaritan angel who found them and took them to the shelter. Kudos to our rescues team who took over from there.  We are determined to give them the very best life you can imagine.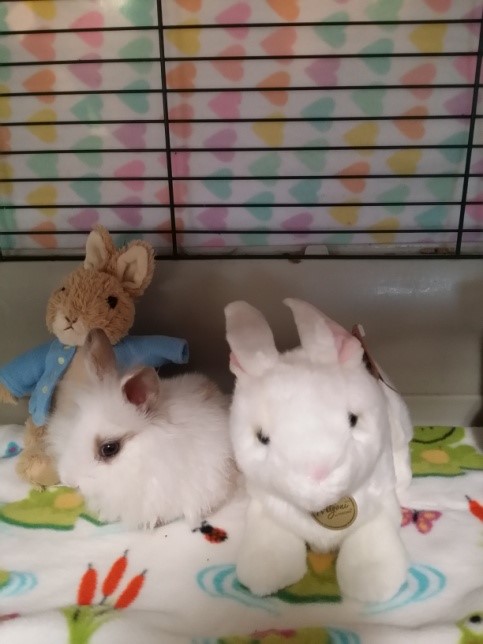 Cookie came in to us when his first family dropped him off at the vet to be euthanized as they could not afford his care. The vet called us and the rest if history!  Cookie has a severely fractured jaw and needs to grow more to be considered for repair surgery.  He eats critical care daily along with pumpkin and applesauce – He tries to eat finely cut hay but so far - no luck! 

Cookie is currently in a medical foster home. He has adjusted to his special condition very well.  He has the foster on his routine.  Such a sweetheart.  A true joy to be around.  He loves hopping about in the living room and has found a friend in the foster cat.
Daniel was left at a shelter unable to stand.  The shelter vet stabilized him then called us. He had four broken feet and was seriously ill. He needed hand-feeding, long term medication and all his feet needed to be braced and wrapped. With quality vet care and support he survived and in a few more weeks he will be adoption-ready.
2020 has been a year when so many people have lost work, their homes and many have needed to give up their pets. This is the year of the pandemic, huge fires, electrical storms and many deaths.  The one saving grace is that the Haven has been able to stand strong to help the animals.
 
As you know, all our major income producers Bunnyfest and Bunny Hops had to be cancelled. In addition, all our adoption show events stopped in March! Even our PFE events had to be cancelled.  However, with your support we have found new ways to hold safe adoptions, to provide education (via zoom), to carry out rescue and get to our vet appointments.

Creative staff pushed through and created safe ways to carry our nail trims clinics and to take photos as well.
 
Thanks to our vet teams!  These essential workers helped the rabbits, cavies and other rescued animals survive and thrive.  Our rescue, transport, adoption/ foster teams are just incredible!  Everyone is doing all that they can.   Now, with your support, we can continue in 2021offering our love and care to those who need us so desperately. 

Please give generously to support the Rabbit Haven's  lifesaving work Together we can accomplish so much –
 
Love, Auntie Heather