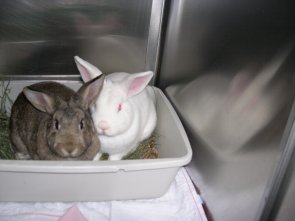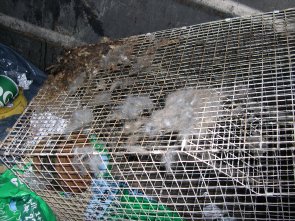 Today, Animal Control officers confiscated two rabbits that were being kept in deplorable and sickening conditions. You cannot even see the rabbits in this disgusting cage- People stink! This cage is beyond belief! The rescued rabbits are A male white and a female brown bunny. Medium sized and very scared. They have been cleaned up a bit for their pictures below. These charming rabbits were in the tiny cage which was sitting on top of two garbage cans and the cans were completely filled with waste. The cage was also full of rabbit waste so the bunnies smelled awful too. Staff say they have never had a rabbit in that smelled so awful.
The owner had apparently planned to throw them out, but he tried to get out of animal cruelty charges saying he was going to "eat them this Saturday anyway ". Eating the rabbits would have been legal, however you still need to keep animals in sanitary conditions with food and water.
A smart animal control officer was able to get the person to sign over the rabbits, likely letting the person off without charges if he released the rabbits. Both of these rabbits are naturally terrified (well it sounds like they were kept in a living hell.) Lara will evaluate them when they settle down.
These poor, abused rabbits are considered unsuitable for adoption by the shelter because they are very afraid of people and they need immediate rescue or adoption. Contact Heather (831 239-7119 or email at director@therabbithaven.org) or Lara (831 818-5814 or email at laraadam@comcast.net) if you can help these poor bunnies. They are not trash!