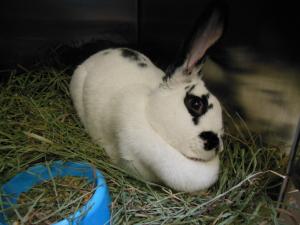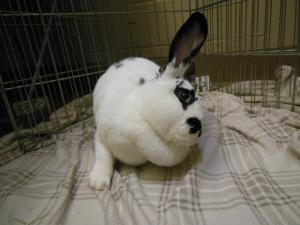 Dear Rabbit Haven family,
Jillian needs your help.  Read her letter below…
 
This is Jillian on arrival at our local shelter- She is unable to stand very long.
She has a ruptured ear drum reported due to head trauma. She needs rescue by 3-30-SAT) ASAP!  
Here is a video of Jillian.
Hello, my name is Jillian and I am so scared. I can stand or walk right and when I do I roll over.
I have a hard time eating and being safe. I need help. I have a ruptured ear drum.
This was from a head trauma and nasty mites that moved into the ear drum.
I cannot stand (need to prop up) and my ear hurts so much.
They are treating me for mites and ear injury and now I need to find a foster to love me right away
as I have only until March 30th here at the shelter.
I am trying to eat upside down. I need your support.
I am defenseless and I need your help. Won't you offer me a spot in your home and heart?
I am so gentle and I never did anything wrong. I am so confused right now.
I just need good vet care and love. Please help me.
Here are the ways you can help me…
·         Foster me!
·         Foster another rabbit to make space so I can get in to a Haven medical site.
·         Donate for my care (I need to see vet ASAP!) https://therabbithaven.org/donate
·         Help transport me to a medical center and vet.
·         Call with your ideas
·         Share my letter with others
PLEASE HELP ME. LOVE, JILLIAN
Sincerely,
Auntie Heather
Director@therabbithavne.org
831 239-7119
There is still time to donate to the Rabbit Haven. Click here to donate https://therabbithaven.org/cash-donations.
You may send your check to The Rabbit Haven PO Box 66594 Scotts Valley CA 95067 www.therabbithaven.org