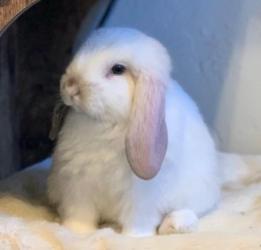 Nicolas is a sweet 2 yr old French lop boy.  He recently developed two large lumps on his body which require surgery  - His current family surrendered him to The Rabbit Haven rather than euthanize.
His surgical estimate is  $750 - $1,200. Sounds like a lot, but rabbit vet care is expensive.  Rabbits are so delicate and require specialized care.  Nicolas is a darling boy and I set up his appt for next Tuesday Feb 28th at Exotics Vet Hospital in Scotts Valley.  If you can donate to help cover the cost of his big surgery please donate at Donate | The Rabbit Haven.    He will be grateful to have your support!
Thank you so much for any help you can provide to Nicolas.  TRH will provide all post op care and then, when he is healed he will be happy and adoptable. 
Love to everyone- Auntie Heather