wow I have help! thank you to a nice lady named Natalie in SC for agreeing to get me out of the shelter (foster) in time. She will also take me to see Dr Stern at the exotics clinic – I get spayed there an vaccinated.  (that is important)Then Steve is taking me in on 12-19th - So things are looking up! Belinda really helped thanks Belinda!  Honestly I will feel best when I am out and safe. I will let you know on Sunday I promise Tom is picking me up this Sunday ! Love, Henrietta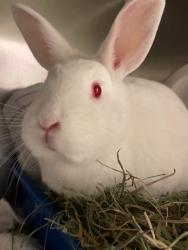 She has a shelter final end date of  Dec 13th at a local shelter.
Hi everyone,  my name is Henrietta -I came from a bad situation and ended up at this shelter. The whole transition has been really hard. then today I got the news that I have only until 12-13th  at this shelter - New rules here. I need some human help please. I need a foster home or a permanent home- but Really soon.
I am scared so please write Auntie Heather ASAP!  She said she will get me out if we can find a space for me to live - Will you help? – Oh,  I was supposed to say ...the Haven loans you an x pen and sheets for my floor, a litter box and food /water dishes.   So PLEASE HELP ME. Soon ok?
Call auntie at 831 239-7119 right away - I have only three days. PS: I am a good girl 
Email if you like to Director@therabbithaven.org  (Greater Bay area  CA rescue )
Get me out of here please.