3PM 7-Jun-2018
Christopher found his forever home today!  He is Safe!  Thank you everyone for your help,  support and kindness.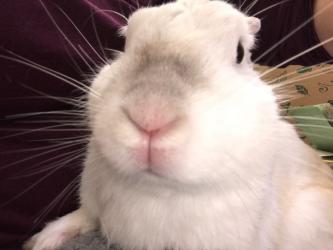 Hello,
My name is Christopher and I need your help!
I was left by my people outside.  I wandered the streets for awhile trying to find food and water.  Then I ended up at a shelter. At first I was really scared and sad.  Then depressed.   I am trying so hard to adjust.  While I was out on the street trying to survive,  I hurt my paw.  So on top of being demoralized,  my paw hurts! I need to see a vet! 
Now,  after all this,  I have only a bit of time left to stay at the shelter! More rejection. I have to be out by June 9th - Maybe even sooner. I don't know. I feel so hopeless. It feels awful to be so unwanted and to be injured too. I feel so dejected,  lost and sad. I just need a little help. Can I please come stay with you?
While here at the shelter I met humans from the Rabbit Haven . They are trying to help me.   They said they will come get me and bring me to you. They will also set you up as a foster for me.  They said I can have a pen and sheets for my floor and a litter box and even a food water dish –and food.  Wow,  I would like that.  They will also pay my vet expenses and make apts - Everything. That way my paw can be treated and I can get well.
I really want to live.  I want to feel better and be safe.  Will you please help me? 
Please Call this number or email right away!! As soon as you read this would be the right time. 831 239-7119 or 831 600-7479 AVA_Haven@comcast.net
Ok – I am waiting for you. Love, Christopher.