Satchi made it through her surgery today!  She had a mid femur amputation -She has had such a hard week.   Her leg and foot both were badly infected.  The dog bite pierced the bone.   We will need to give her antibiotics and pain meds around the clock and assist feed.  All things considered, she is recovering well post surgery.  She was able to leave the hospital this evening and now is back at the Haven med center. Her temp has dropped back to normal; she is even eating a bit of hay and greens already. We will keep a close watch on her with Mamma Gina's help of course.   One drawback: She lost quite a bit of blood and is somewhat weak.  Send healing thoughts and get well wishes. 
Satchi sends her love and thanks to all her supporters.   Here is a photo of Satchi post surgery & one with her friend Mamma Gina- She is a precious little girl.  Hugs to you. 
Satchi's surgery Success:
Satchi made it through her big leg amputation surgery today!  Dr Stern was concerned about blood loss, but with support thinks she will be A ok!    If she does well post op she can come back into the Haven med site tonight.  Such good news so far for this brave little bunny!  We were deeply concerned about her well being.  She is so tiny to have such a big surgery. We are so grateful to share this news with her many Satchi fans.  Send get well wishes and there is still time to have your donations matched.  Love to everyone.
Satchi's foot became swollen so all bandaging and splint needed to be removed- She was very hot with high temp this AM so was rushed in for emergency surgery to remove her leg. Surgeon: Dr H Stern at Animal Hospital of Soquel.   Please send get well wishes for tiny Satchi.  So scary in that she is very young (5 weeks) and still underweight.   We had wanted to wait to allow her to gain weight and become stronger prior to surgery, however, the dog bite became infected. Her life is on the line without surgery. 
The Match for Satchi is still on so those of you who wish to contribute – now is the time.  https://therabbithaven.org/cash-donations
Satchi was so brave today.  She went in to see Dr Stern to have surgery to clean out the leg from the dog bite.  She gave kisses as she went in for surgery.  Sadly she has a dog bite wound right into her tibia.  Her ankle is also completed disconnected from her tibia.  Tragic injury in that we cannot repair it.     Sochi will need a leg amputation after she is stabilized.  Today was wound clearing and minor surgery, splinting and now we need to let her get stronger so she can survive the leg amputation. 
Satchi is bright and doing better every day.  She is a fighter.  Every inch of her wants to live.    Take a look at her x ray showing the severe dislocation and bone injury to tibia.  
Satchi needs Fleece blankets and plush pads for her room.  She cannot use a litter box as she cannot move about well with her protective splint. We will work to get the infection under control with antibiotics and keep her well fed and pain free. 
Send your support and get well wishes. Send cards and I will take her photo with your card and post to fb. 
She will need a BIG surgery soon.  The cost will be $700.00, even with our discounts. To donate click  https://therabbithaven.org/cash-donations
Baby Sochi is  badly injured.  She is barely eating and will need  KMR and critical care next.  She is badly dehydrated so needs fluids- she is in rough shape.  Her leg is wrapped –I do not have soft splint here.
After she eats I will see if she will tolerate having her leg shaved so I can see her injury – Poor baby.  She will be on close cage rest, meds (pain and antibiotics) I will do my best to  get her to Dr Stern tomorrow.   
Update: she took 6 cc kmr/ccare- antibiotics / Sad to say that I  think both legs are broken.  Her right leg is most defiantly broken + ankle dislocated.  The left in also bent under her.  She is too painful for better exam. Pain meds next.
Send your love and get well wishes to our tiny Sochi. She weighs .40kg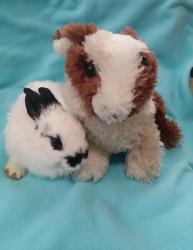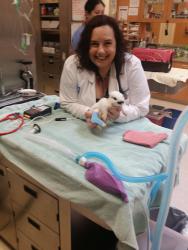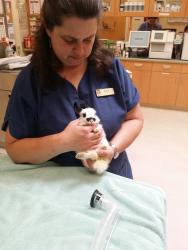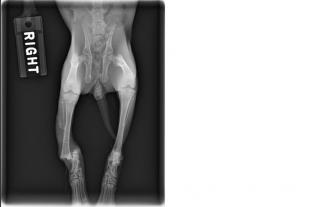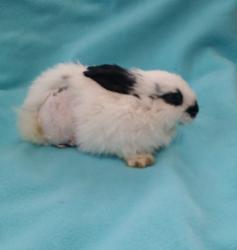 Satchi has a fractured tibia and displaced ankle she suffered from a dog attack.  She is very weak and will need hand feeding and critical medical support immediately.  We are seeking  help to cover her medical care.  She is badly injured and needs out of shelter today.    
Will you help her?  Cost of her care will be aprox. $600.00. 
Donate here: https://therabbithaven.org/donate
Contact Heather 831 239-7119 Director@therabbithaven.org
The Rabbit Haven is located in Northern CA greater Bay area.  CA non profit.