Lyndria is now in foster care!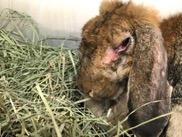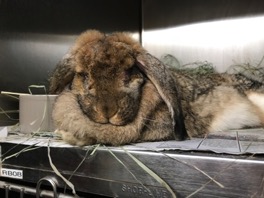 Precious Lyndrai is a 10 pound lop girl that was abandoned on the streets in San jose. She is in desperate need of veterinary care and medications to help save her eye sight and to help her regain her health – she is underweight and both eyes are seriously infected. In addition she has significant fur loss down the front of her sweet face requiring protective ointment and care. her ears are also torn but they are healing. Poor little lamb
Another way to help: Lyndria is so large she requires lots of space in her foster home and she has a great appetite – Having one head of romaine is just fine (for breakfast!) She has lots of catching up to do – She may grow to 11-12 pounds when she is healthy – What an amazing girl
If you want to help sponsor this girl let us know –for only $25. A month you can help feed and shelter her.
Her veterinary care will range 500 + Please be generous with her today –she deserves a break and your support. Help this lovely girl today