Dear Haven family -Thank you to everyone who stepped up to sponsor all these tiny ones -Each one now has a sponsor. 
I will be keeping in touch with you in Email – Your  $ 25.00 each month will keep them in fleece blankets and formulae  Today we added alfalfa hay and baby pellets.. 
All the babies are active alert and hungry and energetic all the time – and when they sleep it is with joy!
They tiny ones live to snuggle with Baby Gael  - It seems as if there are two litters here. One set seems to be a dwarf type the other part of this litter have longer ears – They are all perfectly adorable.   
Tomorrow  I will take a video of the tiny ones when they are playing  They are eating formulae 3 times a day and all are gaining wight and thriving. 
Thank you for your love and support of the tiniest bunnies.  We are so grateful to  you
Love, untie and all the tiny babies.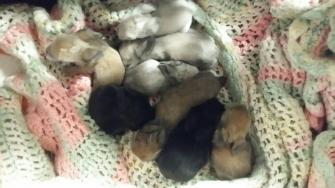 New adorable litter - sponsors needed for nine precious tiny babies abandoned in a box.
Nine tiny babies rescued! These precious babies were discarded in an old carboard box in a park! They were left alone and vulnerable. Luckily a kind good samaritan took them to the shelter who called us for help. Our awesome transport person Tom went to the shelter to pick them up. They came into the Haven infant site in Santa Cruz. Would you like to help these tiny babies? Each one needs a sponsor - $25 per rabbit There are 9 of them. They need special formulae, fleece and lots of care. Each sponsor will receive a baby photo via email ! Please email me at Director@therabbithaven.org Cal at 831 239-7119 donate at https://www.therabbithaven.org/donate
These little ones are mini miracles - Help us to help them- They appear to be 8 days old as of 5-27-22. Love, Auntie Heather