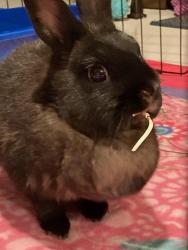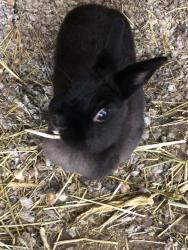 This sweet little bunny, Hopscotch, was recently rescued by the Rabbit Haven with the help of two good Samaritans.
Hopscotch lived in extremely poor conditions for years and is now suffering from untreated medical issues – Extremely mallocluded teeth, Dewlap abscess and mammary gland abscess.
This precious girl came to our attention via two great people who learned of the rabbit's plight and saved her.   The situation is heartbreaking .  She lived in a tiny cage filled with excrement- housed outside she was basically forgotten.  Her teeth continued to grow and her infection worsened.  Two large abscesses formed on her tiny body.  She was defenseless.
The Rabbit Haven took her in Thursday evening.  She was then seen by her vet on Friday where she had emergency tooth surgery so she could eat.  We found out that this rabbit had been in this condition for almost two years.  Her family did not provide her with care. Sad indeed to see this level of neglect which honestly is more in line with abuse.  
As of Friday she was safe inside the Haven where her treatment plan has been set.   So far she had to have an emergency tooth surgery on her tusk like teeth – they had grown so long they were twisted, possibly creating a tooth root abscess.  She had   x rays, evaluation of both dewlap and mammary gland abscesses. She was placed on heavy antibiotics, (Pen G and Enrofloxicin) will be hand fed critical care) and given pain meds - She is now in a haven medical site now where she is safe and warm.
Next step for Hopscotch is to heal then go in on Dec 28th for the removal of the abscess under her chin and evaluation of tooth root  and any other source of this abscess.  More medications and medical care will be needed for an additional two weeks.  She is learning to trust and is adjusting to having the 5" long teeth removed so she can eat.
Then if all goes well, her abdominal abscess and spay surgery can be done in January.  Only after all this can we think about the tooth removal she so badly needs for her front incisors.
Each additional surgery will require more funds. So far her Good Samaritan rescue team has raised 900.00.   Now the Rabbit Haven need to raise the $3,000.00 she will need for all her medical care.  We want to be sure we can offer her everything she needs. 
This Christmas, please consider the gift of life for Hopscotch – Show her we care and support her life saving surgeries- Please  donate HERE for Hopscotch.  
Love, Auntie Heather –The Rabbit Haven   All donors will receive photos and updates