Update: Hello Jaynie  had her surgery today- wow!!! She had two abscesses and had to have three teeth removed. Her surgery was Expensive but then she is so worth it. She is recovering tonight with sweet Sarah! If you want to help with her surgical costs please donate here.
https://www.therabbithaven.org/donate
 Jaynie is feeling sore but so much better tonight with all that infection gone!
Update : Jaynie is out of the shelter - kudos to Sarah who drove over to pick her up and next Jaynie needs to get into the vet! Monday - no one is avail today or Sunday! we started her meds today!! We will need $1,000.00 to get her surgery / Thank you to Michelle for the 100 donation - If anyone else wants to donate to help Jaynie click here. https://www.therabbithaven.org/donate - Love to everyone who helps support this little girl. love to all Auntie Heather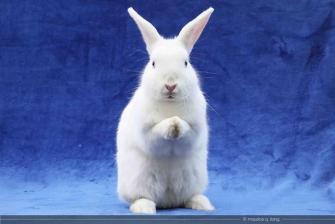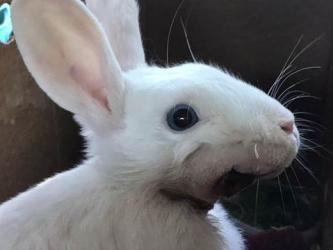 Please help us save Jaynie- We have only until 4PM today to save her.
Please help us save Jaynie. 
This morning we received this note from one of our shelters
" Yesterday we noticed that the right side of Jaynie's face was swollen. I got her in to see the vet right away. She has a deep, tooth root abscess, and she needs surgery. Unfortunately, this is not something the shelter can take on. Per the vet, she will need surgery to have the tooth removed, antibiotics, critical care feeding and multiple rechecks. Just to start will be around $1000. She hasn't been eating much since yesterday, so we need to make a decision quickly on her. She is on pain meds. Can you take her? We will have to euthanize if rescue is not found. She would need to leave today. I am here until 4:30 today. If we don't have anything set by 4, I will move forward with euthanizing her because I do not want her to be uncomfortable or suffering. She is very sweet and friendly rabbit since day one. I attached her medical history, Can TRH take her ? "
It is 10:40 AM Saturday (just got into office) and I have until 4PM!
WILL YOU HELP SAVE JANIE?
WE NEED THE FUNDS TO COVER HER CARE AND A FOSTER! PLEASE CONSIDER HER AND HELP IF YOU CAN.
CALL ME 831 239-7119 IF YOU CAN OFFER HER FOSTER
-WE CANNOT GET JAYNIE INTO THE VET UNTIL MONDAY - WE CALLED EVERYONE & CANNOT GET IN. We can stabilize her ...
PLEASE HELP SAVE JAYNIE-
--SEND MONEY FOR HER SURGERY
--LET ME KNOW IF YOU CAN FOSTER HER
WE NEED YOUR HELP TO SAVE JAYNIE
love, auntie HEATHER DIRECTOR@THERABBITHAVEN.ORG