Lars found an awesome forever home!  What a wonderful world. Love, Auntie Heather Bechtel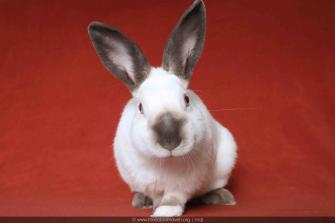 Hi out there,  my name is Lars and I need help- My foster parent can't keep me cause she has allergies really bad and she can not breathe well. I need to move to another foster real quick please.  She has to use inhalers. She said that is serious.  I am trying to be still and good, but it does not matter.  I still have to find a new foster  (Or an adoptive home if you prefer) I am up for that!  This moving around is no good -rabbits do not like change if you know what I mean. 
Will you please please help me?? I promise to be good, use my litter box, do a binky or two every day.  I love to play and watch movies,  Do you? 
Well, I don't have a computer so auntie said she would post my letter to Haven people (that's you)  and she said the Haven will also send along an x pen, floor cover, food water dishes and a litter box !  Sounds good?  Ok then just call auntie at 831 239-7119 or Email her (she likes that) Director@therabbithaven.org  OK thanks a bunch!   Love,  Lars