Meriella found the perfect foster family today 3-17-2022 They will pick her up this Saturday  - Love to all- Auntie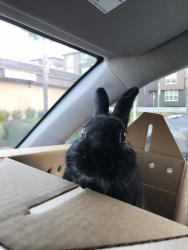 This dear bunny  came in from a vet office after being surrendered there. Her family could no longer care for her. The vet kindly took care of her, filled her prescriptions and then she was rescued by The Rabbit Haven. Just like that!
This charmer is really pretty and so smart. She is spayed and vaccinated, She needs meds every day that's it. She needs a kind foster to look after, give her meds every day and give her a pen to play- greens hay - just the basics. Plus lots of love. She stands on her toes to get pets. She has the cutest little face! Her expressions are priceless. she loves cuddles.
Call me if you have a space in your home and heart for this bunny. She really needs that special someone to care for her. Call me at 831 239-7119 to find out more about her- Please help her.
Love, Auntie Heather Director@therabbithavne.org
Bay Area CA